No matter how sad this sounds, but the dry language of statistics suggests that today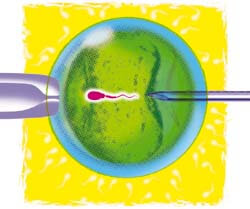 the problem of infertility concerns 15-30% of married couples. Male infertility may result from insufficient sperm count or poor motility. Normal indicators of ejaculate: a volume of 3-4ml with a content of approximately 100,000,000 sperm per 1ml. Men, in which one ml of semen contains 20,000,000 sperm or the total number of them in the ejaculate is 50,000,000, are usually infertile.
Infertility in women can be caused by many factors, including obstruction of the tubes (most often caused by inflammatory processes in the pelvic area), adverse effects of cervical mucus on sperm, immunity to sperm, lack of ovulation, etc. Severe forms of male infertility are cases where the ejaculate contains very little (oligozoosperia ) or practically does not contain(azoospermia) live sperm.
ICSI Method (ISCI)
The essence of treatment is that they use intracytoplasmic sperm injection. At the same time, the only sperm obtained from any segment of the male reproductive tract, using a special micropipette with a large magnification, is immobilized under a microscope, absorbed into the micropipette and injected directly into the ovum's cytoplasm (the method of intracytoplasmic sperm injection, ISCI). And the egg fertilized in this way is installed in the uterine cavity, where it develops further.
ICSI is one of the most effective assisted reproduction methods for treating male infertility. The probability of pregnancy after applying this method is up to 30%. Intracytoplasmic sperm injection is combined with surgical techniques for sperm collection from the vas deferens, epididymis and testicle itself. For most patients, the ICSI program is carried out with hormonal stimulation of ovulation. ICSI is carried out only on mature oocytes.
1992 is considered the year of ICSI's birth as a method. The first birth after intracytoplasmic injection was described in 1993. Now in the world there are about 7,000 children who were born thanks to the above method. This approach provides couples with an excellent alternative to in vitro fertilization with donor sperm.